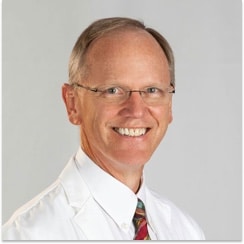 Joseph Allan
(Retired July 31st)
Thank you for trusting Willamette Ear, Nose and Throat with your ENT care. We are only as strong as our community and do not take lightly our mission to help you and your family 'Breathe Better, Hear Better, Feel Better, Look Better'.
Please join us in wishing Dr. Joseph Allan a happy retirement as he leaves us to spend more time with his family, his music and Andante Vineyard, which he founded with his wife, Karen Saul.
Dr. Allan retired from medical practice on July 31, 2021. This decision was difficult, as he has thoroughly enjoyed caring for all his patients and will miss providing your care. He is excited to move on to this new phase of his life.
We have a professional, compassionate transition plan in place. For your general otolaryngology care, any of our current physicians are able and willing to care for you. When you are scheduling an appointment at Willamette ENT, the staff will assist you in selecting a physician for your continued care.
Our practice has added two additional physicians, Suzanne Strand, D.O., and Chris Prze, M.D., who provide a wide range of specialty care. Dr. Strand specializes in children's ear, nose and throat disorders, nose and sinus diseases, head and neck surgery, and facial plastic and reconstructive surgery. Dr. Prze's areas of clinical interest include the medical and surgical treatment of the nose and sinuses, treatment of pediatric ear, nose and throat disorders, head and neck surgery, and facial plastic and reconstructive surgery.
Jillian Netland, PA and Drs. Thompson, Johnson and Donovan are also accepting new patients and are excited to offer conscientious and empathetic care that meets each patient's unique needs and goals. We also have on-site audiology services, allergy testing and treatment, in-office CT scans and ultrasound as well as a surgical center to provide comprehensive and convenient care.
Should you have a preference on who you would like to see, simply let our staff know at the time of your call. Our appointment team is reachable at (503) 581-1567. For all other news and updates, please visit our website at ENTsalem.com.
You can follow along with Dr. Allan and arrange a winetasting visit or attend a musical event at his vineyard by checking his website: AndanteVineyard.com. At his vineyard and winery, north of Dallas and the Baskett Slough Wildlife Refuge, you will find him playing the piano in their new tasting room when he is not visiting with guests or driving a tractor.
"Have always found the staff and doctors here to be helpful. This was my first visit with Dr. Prze after Dr. Allan retired, and he was very friendly, enthusiastic, and thorough. It was obvious he had read my chart carefully before my checkup."