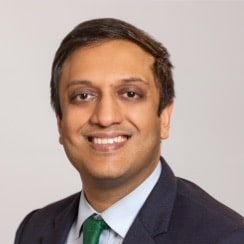 Sachin Gupta
M.D., FACS
Dr. Gupta takes a personalized approach to patient care. He takes the time to understand each patient's concerns and goals, educates them about their health, and collaborates with them on treatment plan. He enjoys seeing the impact treatment can have on a patient's life, whether that's helping them reconnect with family after hearing restoration surgery, freeing them from the anxiety caused by a tumor or otherwise helping them feel their best.
As a subspecialist, Dr. Gupta actively communicates with referring physicians to make sure that everyone on a patient's medical team stays on the same page.
Areas of Clinical Interest
Otology and neurotology
Sensorineural hearing loss and conductive hearing loss
Otosclerosis
Cholesteatoma
Tympanic membrane perforation
Dizziness, Superior Semicircular Canal Dehiscence (SSCD), Meniere's disease
Vestibular schwannoma (acoustic neuroma)
Glomus tumors
Facial nerve disorders
Cerebrospinal fluid (CSF) leaks
Minimally invasive endoscopic ear surgery
Stapedectomy
Cochlear implantation
Skull base surgery: translabyrinthine, middle fossa, and retrosigmoid (suboccipital) approaches
Dr. Gupta was an attending surgeon in Otology/Neurotology at Walter Reed National Military Medical Center in Bethesda, Maryland. In 2017, Dr. Gupta began practicing at Oregon Health & Science University. He joined Willamette ENT in 2022.

In his free time, he enjoys basketball, yoga, hiking, classical piano, and spending time with his wife, two sons and French Bulldog.
Education
Residency in Otolaryngology: New York University School of Medicine
Fellowship in Neurotology: University of Texas Southwestern Medical Center
Medical Degree: Mount Sinai School of Medicine
Undergraduate: University of Virginia, B.A., Ethnomusicology
Certifications
American Board of Otolaryngology and Neurotology
Memberships
American Neurotology Society, Fellow
American College of Surgeons, Fellow
International Working Group on Endoscopic Ear Surgery
American Academy of Otolaryngology-Head and Neck Surgery
Volunteer Work
Ear Surgery in Honduras, Walter Reed National Military Medical Center (2016)
Awards
NYU Department of Otolaryngology Dennis Pappas, Sr., M.D. Award for Excellence in Research (2011)
OHSU Department of Otolaryngology-Head and Neck Surgery Teacher of the Year Award (2019)
"Dr. Strand is wonderful. In fact, all the staff are just the best. Personable, and to the point. You will be well cared for at Willamette ENT."