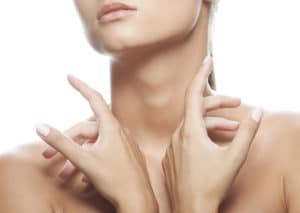 Rejuvenating the neck area can be challenging. The skin is thin and has less collagen and oil glands than facial skin—which means it is quick to show the signs of aging. Check your neck in the mirror; you may be able to see major improvement in your overall look with some attention to this area. From neck cords and wrinkles to sagging skin and pockets of fat, your facial plastic surgeon can offer several contouring alternatives to meet your desires.
Neck Bands
Neck cords or bands are stringy, vertical muscles that become more prominent as you age. Two muscles on each side of the neck begin to protrude, causing unsightly bands of the skin. Neurotoxins (Botox) can be injected to help relax these muscles for a smoothing effect. The treatment is noninvasive and lasts three to four months. Ultrasound therapy is another way to trigger the wound-healing response in your skin to stimulate collagen. These treatments will target only the banding.
Fat Pockets
If you have a full or double chin, liposuction of the area can provide a more defined angle to the neck and jawline without removing any skin. Traditional liposuction surgery typically requires a week to recover. It may be combined with other procedures, such as a chin implant, facelift or neck lift.
Sagging Skin
Also known as turkey neck or turkey wattle, a common condition due to familial genetics and aging, can be improved with a neck lift surgical procedure. This too may be combined with other procedures such as facelift or chin implant to achieve the best results.
Neck lift
If the drooping skin, fat deposits and banding are extensive, you may be a good candidate for a neck lift procedure. Customized to suit your needs, they vary in invasiveness and the areas that they address. The neck muscles can be tightened, excess fat removed and saggy skin trimmed. Recovery time depends on the extent of the surgery, with most patients returning to daily activities and work within two weeks.
Put away the turtlenecks and plan to show off a rejuvenated, more elegant neckline this spring. Set up a consultation appointment to discuss what options may be able to dramatically improve your neck and jawline.