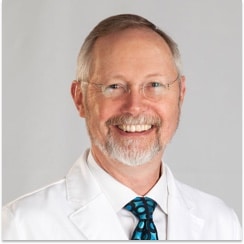 Bruce C. Johnson
M.D., FAAOA
Dr. Johnson recognizes the importance of being a good listener in order to understand his patients' concerns. His focus is on forming relationships built on trust and respect as the basis for providing the best possible care. He feels that humor and a bright outlook can have a positive impact on people. As an active leader in the community, he draws from a variety of insights to help his patients understand their many diagnostic and treatment options.
Areas of clinical interest
Diseases of the Ear and Ear Surgery including Bone-anchored Hearing Implants
Diseases, Disorders and Surgery of the Nose and Sinuses
Children's Ear, Nose and Throat Disorders
Diagnosis and Treatment for Respiratory Allergies
A native of Oregon, Dr. Johnson enjoys hiking, landscape and vegetable gardening, and traveling.
Education
Otolaryngology – Head and Neck Surgery Residency: Oregon Health Sciences University; Portland, OR
Medical Degree: Oregon Health Sciences University; Portland, OR (cum laude)
Undergraduate: B.A. Chemistry, Reed College; Portland, OR (cum laude)
Certifications
American Board of Otolaryngology
Memberships
American Academy of Otolaryngic Allergy (Fellow)
American Academy of Otolaryngology/Head and Neck Surgery
American Medical Association
Oregon Academy of Otolaryngology
Oregon Ambulatory Surgery Center Association
Oregon Medical Association
Marion-Polk County Medical Association
WVP Health Authority (Formerly Mid-Valley Independent Physicians Association)
Northwest Integrated Providers, Inc.
Leadership work
Oregon Academy of Otolaryngology, president (2002-2003)
Oregon Ambulatory Surgery Center Association, board member (2010-Present) and past president (2014-2016)
Oregon Patient Safety Commission, director (2004-2013)
Physicians Choice Foundation, board member (2007-2014)
WVP Health Authority, board member (1992-2004; 2010-present) and past president (2001-2002)
"Everyone is nice and very efficient."