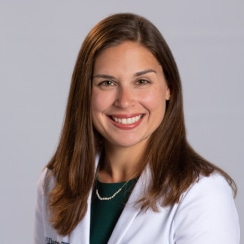 Suzanne Strand
D.O., FAAOA
Dr. Strand believes warmth and compassion are the keys to excellent care. She understands that all patients are individuals with unique needs and strives to form a collaborative relationship with the patients and families she cares for. One of her favorite aspects of ear, nose and throat care is the diversity she sees and relationships she builds by working with patients of all ages.
Areas of clinical interest
Children's Ear, Nose and Throat Disorders
Diseases of the Nose and Sinuses
Head and Neck Surgery, including Thyroid and Parathyroid
Facial Plastic and Reconstructive Surgery
A native of St. Louis, Dr. Strand enjoys spending time with her family and their pups. In her free time, she enjoys running, hiking, baking, and traveling.
Education
Otolaryngology- Head and Neck Surgery Residency: Beaumont Health System; Michigan State University
Medical Degree: Midwestern University, Chicago College of Osteopathic Medicine
Undergraduate: University of Missouri, Bachelor of Science Nutrition Science
Memberships
American Academy of Otolaryngic Allergy (Fellow)
American Academy of Otolaryngology/Head and Neck Surgery
American Osteopathic Colleges of Otolaryngology- Head and Neck Surgery
American Medical Association
"I have been going to Willamette ENT on and off for most of my life. The staff is always so friendly, and the doctors and nurses show a lot of care and compassion!"