When you think of hobbies or extracurricular activities that put your hearing at risk, you envision hunting, working with power tools and attending rock concerns. But it turns out playing in an orchestra can damage your hearing. The loudest instrument of them all? The French horn.
Noise Induced Hearing Loss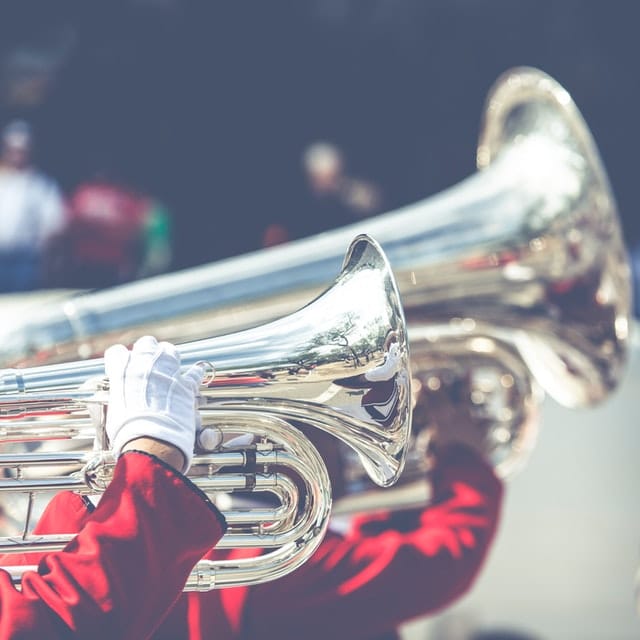 Soundwaves enter your ear and are converted into electrical impulses by delicate hairs within the inner ear. The electrical impulses are then sent via the auditory nerve to the brain where they are interpreted as sound.
When you are exposed to one very loud sound (like an explosion) or continuous loud sounds over an extended period of time (like working in a construction site), the tiny hair cells in the inner ear can become damaged. This is known as noise induced hearing loss.
Sounds are measured in decibels (dB). Any sound over 85 dB can cause hearing loss.
Dangerously Loud Orchestras
A 2013 study published in the Journal of Occupational and Environmental Hygiene looked at the dangers of playing in an orchestra. The researchers examined 143 professional French horn players during the International Horn Society's 2010 meeting in Australia.
The researchers from the University of Sydney and the University of Queensland found that French horn players under the age of 40 had an 18 to 33 percent chance of developing noise induced hearing loss. Even more interesting was that only 18 percent of those in that age group wore any type of hearing protection.
According to Wayne Wilson, the lead investigator, "Even within that 18 percent, the use of hearing protection appears to be inadequate with 81 percent of these participants reporting their frequency of use as 'sometimes' and 50 percent reporting they use generic, foam or other inferior forms of protection."
These findings show that even when age is taken into account, sound exposure has a significant effect on hearing. Ian O'Brian, a professional French horn player and a doctoral student researchers at the University of Sydney explains, "Our findings also reinforce the need to educate horn players, their mentors and audiologists about the need to protect hearing and how best to achieve this while still enabling musicians to play to the highest level." He continues, "Even mild hearing loss can result in difficulties discriminating pitch, abnormal loudness growth and tinnitus, all of which can affect a musician's ability to perform, subsequently jeopardizing his or her livelihood."
Protect Your Hearing
French horns are not the only instrument that produce sounds that can damage your hearing. When played at their loudest, the following can put your ears at risk:
Trombone
Flute
Cello
Clarinet
Piano
Oboe
Violin
Piccolo
Flute
You do not have to stop playing music in order to keep your ears safe. You can:
Wear high-quality earplugs with noise cancelation
Purchase mutes for your instrument to allow you to practice safety
Monitor your sound levels with a sound meter
To learn more about protecting your hearing, contact the experts at Willamette Ear, Nose, Throat & Facial Plastic Surgery today.
Learn More About Hearing Health
"I came to be under Dr. Donovan's care during a medical emergency at the hospital. The care I received that day and in every interaction after, at Willamette ENT has been prompt, professional and very thorough. I feel very well cared for."