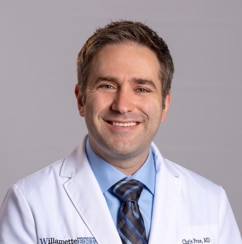 Christopher Prze
M.D.
Dr. Prze believes great care is built on genuineness. He focuses on open communication and honesty with his patients. As an ENT surgeon, Dr. Prze appreciates the impact treatment can have on an individual's quality of life.
Areas of clinical interest
Medical and Surgical Treatment of the Nose and Sinuses
Treatment of Pediatric Ear, Nose and Throat Disorders
Head and Neck Surgery, Including Thyroid and Parathyroid
Facial Plastic and Reconstructive Surgery
A native of Wisconsin, Dr. Prze enjoys hiking, reading and woodworking. 
Education
Otolaryngology- Head and Neck Surgery Residency: University of Texas Medical Branch
Medical Degree: Texas Tech University Health Sciences Center
Undergraduate: Dallas Baptist University
Memberships
American Academy of Otolaryngology-Head and Neck Surgery
American Academy of Otolaryngologic Allergic
American Medical Association
"Dr. Strand is wonderful. In fact, all the staff are just the best. Personable, and to the point. You will be well cared for at Willamette ENT."