Allergic rhinitis, better known as allergies, is an immune system response wherein the body reacts to a foreign substance it deems harmful by releasing histamine. The release of histamine causes the symptoms most often associated with allergies, such as sneezing, watery eyes and hives.
Nonallergic rhinitis is similar to allergic rhinitis in its presentation but is caused by different stimuli. Rather than being triggered by allergens such as mold, pet dander and pollen, nonallergic rhinitis is triggered by environmental factors.
What Are the Symptoms of Nonallergic Rhinitis?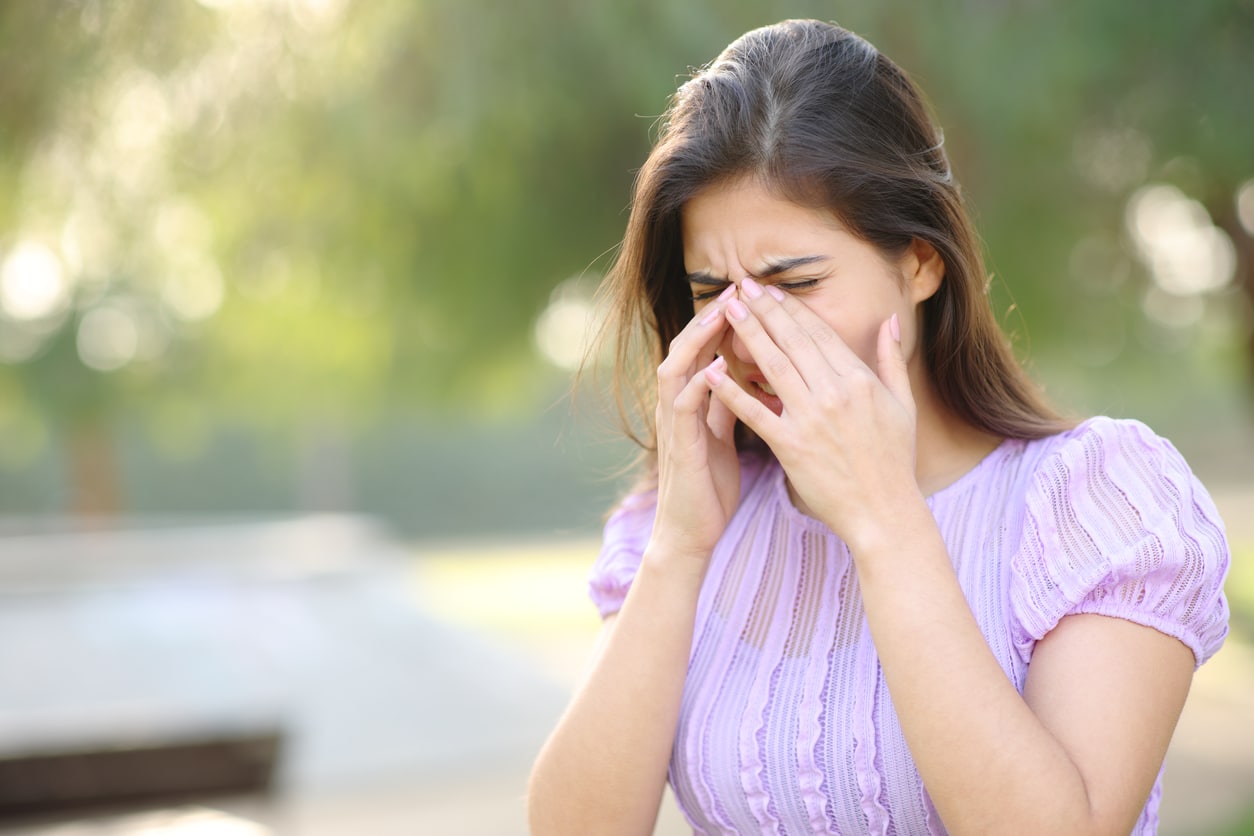 The symptoms of nonallergic rhinitis mirror many of those associated with allergic rhinitis, such as:
Congested or running nose
Sneezing
Mucus in the throat
Cough
Poor sense of smell
What Are Common Causes of Nonallergic Rhinitis?
Some common environmental triggers for nonallergic rhinitis include but are not limited to:
Spicy food
Cigarette smoke
Pollution
Cold or dry air
Perfume
Paint fumes
Stress
People with nonallergic rhinitis likely have a response to environmental triggers because they have a heightened sensitivity to them compared to people without the condition.
Other triggers may include medications and hormone imbalances from menopause, puberty or pregnancy.
How Can Nonallergic Rhinitis Be Identified and Managed?
To identify nonallergic rhinitis, your doctor will perform a skin prick test and physical examination to rule out allergies or other potential causes of your symptoms. Because nonallergic rhinitis is often harder to identify, it is frequently ignored as a minor issue, but studies have shown that untreated rhinitis can significantly increase the risk of other comorbid conditions. It is essential to manage your nonallergic rhinitis to lower the risk of developing accompanying conditions.
There is no known cure for nonallergic rhinitis, but many of the symptoms can be managed through a combination of the following:
Surgery. If another condition, such as a deviated septum or nasal polyps, exacerbates your nonallergic rhinitis, surgery may be suggested to fix the underlying condition.
Avoidance. Avoiding the environmental triggers for allergic rhinitis is the best way to prevent symptoms. For instance, if stress appears to be the cause of your symptoms, consider attending a yoga or meditation class at Common People Yoga to lower your stress hormones.
For more information on managing your symptoms, contact Willamette ENT & Facial Plastic Surgery today to speak to one of our specialists.
"Everyone is nice and very efficient."