Approximately 48 million Americans experience hearing loss. This means that chances are there's someone in your life with the condition. It's important to know effective communication strategies for the next time you have a conversation with someone who is hearing impaired. Follow our tips below.
Get Their Attention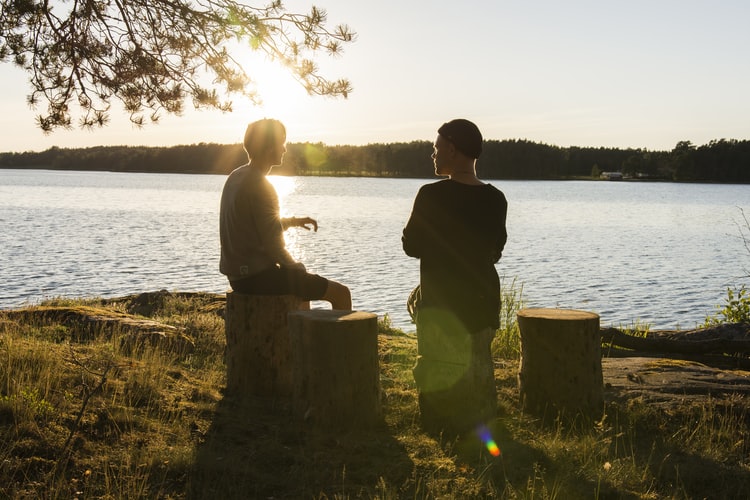 Make sure to get the attention of the person you're conversing with before you begin talking. You can do this by saying their name, giving them a friendly wave or tapping them on the shoulder. Do not get their attention by clapping, snapping or anything else that would be taken as rude.
Maintain Eye Contact
It's important to maintain eye contact for the duration of the conversation. People with hearing loss rely on visual cues like mouth movements, gestures and body language to understand. If you turn your head or walk away while talking, these cues are likely to be missed. Maintaining eye contact shows you are engaged with your conversation partner.
Don't Obstruct Your Face
Again, visual cues are important, so you should keep your hands away from your face while conversing. Avoid talking about important topics during mealtimes when heads are down and mouths are full. In the same vein, you should avoid chewing gum while talking, as this alters natural speech movements. If you regularly interact with people with hearing loss, keep your beard and mustache trimmed to avoid obstruction.
Speak Naturally
Sometimes when talking to people with hearing loss, there is a tendency to shout, speak too slowly or overly enunciate. This causes more harm than good because it distorts the natural movements of your face when speaking, which is what people with hearing loss have learned to read.
Instead, speak at a normal rate, not too fast or too slow. Make sure you speak clearly, raising your volume only if requested. If they seem to have trouble understanding, add more pauses between sentences and give cues like "I'm going to change the subject."
Rephrase, Don't Repeat
If someone has trouble understanding something you have said, don't repeat it the exact same way. There's a chance that your utterance contained sounds that are difficult to decipher from one another. Instead, find new words to communicate your idea. For more information or to schedule an appointment, call Willamette Ear, Nose, Throat & Facial Plastic Surgery today.
Learn More About Hearing Health
"Have always found the staff and doctors here to be helpful. This was my first visit with Dr. Prze after Dr. Allan retired, and he was very friendly, enthusiastic, and thorough. It was obvious he had read my chart carefully before my checkup."